SOUTH BUTLER — For those who worship the god of speed, church on Sunday takes place on two lanes of asphalt surrounded by cornfields.
On the last Sunday of the month, empty country roads in this Wayne County town get a little busier as car enthusiasts head to South Butler Nostalgia Dragway for a day of racing.
The drivers get an early start, with cars starting to roll in about 7 a.m. and the races getting under way by 9. This quiet little corner of rolling fields is quiet no more, as sounds of rumbling engines, pealing tires and a broadcast announcer fill the air. It's a slice of Daytona in farm country.
The dragway, at 33225 Butler-Conquest Road, has a long history; it was built in 1958 by Paul Jackson and has operated on and off since then. The dragway is a half mile long, but today's organizers only allow races for one-tenth of a mile because of poor conditions at the end of the track — which still boasts the original blacktop.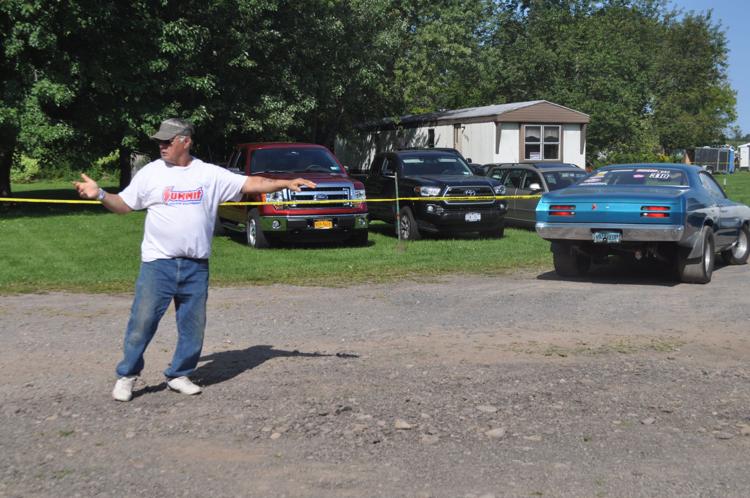 This is the first year the raceway has been under the direction of Bill Arnold of Lyons, along with help from Scott Arnold of Savannah (no relation) and a committed cadre of about 20 volunteers.
As a '54 Chevy and '68 Camaro lined up at the starting line to face off (with silos directly to their left), Bill Arnold still seemed awestruck at the commotion around him — even though the Aug. 27 races were the third of the summer.
"Wow, who would have thought," he exclaimed. "Right in the middle of a cornfield."
The rules are fairly simple. Drivers pay $20 to race all day and spectators fork over $5 to watch (children 12 and under are free). The cars have to be 1988 models or older and inspectors make sure there is a fire extinguisher within the driver's reach and helmets and roll cages for the modified and pro cars. It is a no-prep track, meaning no sticky liquids are added onto it to enhance traction.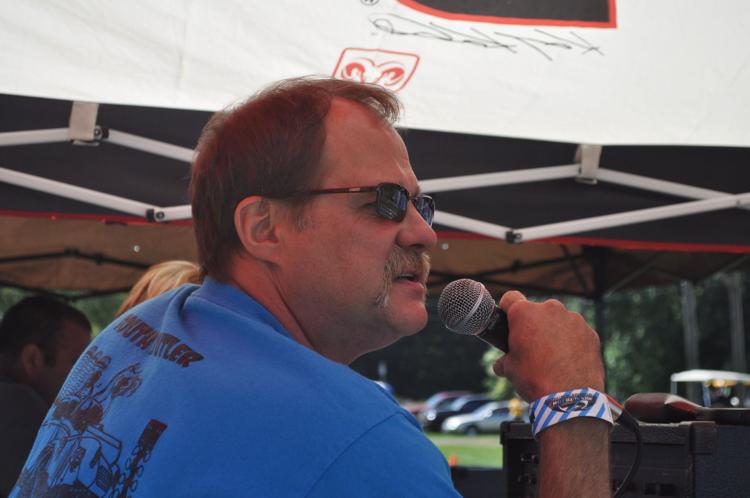 Arnold has staged races on the last Sunday of the month since June; Sept. 24 will be the season's final event. On Aug. 27, he expected between 60 and 80 racers and predicted September's race day would attract more than 100 as word spreads and drivers want one more day of fun before their cars head into winter storage.
Many of the drivers hail from the Finger Lakes region, but Arnold said they also come from the Southern Tier, Rochester and Buffalo areas. He's had one travel from Malone in the North Country and on that Sunday someone even ventured from Vermont.
"But the vast majority are fairly close, within 30 miles," he said.
So far, it's been a safe summer of driving.
"We had one guy who took a little trip through the cornfield, but it was his own fault," said Arnold, noting he wasn't hurt.
These races are labors of love for both the drivers and the volunteers who stage them. There is no prize money or trophies awarded and drivers often race until their gas tank needles hit empty; Arnold said some guys get in as many as 20 runs. The cars scream down the race track, turn around and bump along a dirt road back to the starting line for another pass.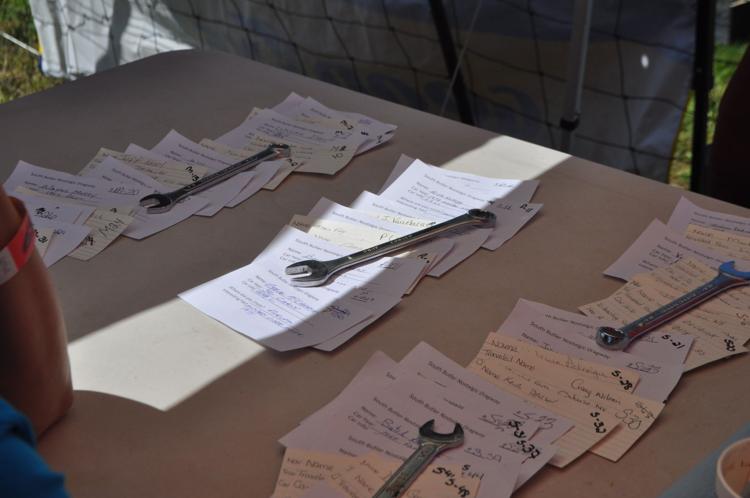 The racers are young and old, as are the cars they drive. Among the more popular models are Camaros, but also registering that day were El Caminos, a '67 Chevelle, Dodge Dart, Ford Maverick and some Malibus.
Arnold credited his volunteers who make the day go smoothly — registering and starting the drivers, announcing the races, manning T-shirt sales and even cleaning up oil spills on the track.
"All they get is a free hot dog once in a while," he laughed. "Everybody is doing it for the love of the racetrack. They've all been here one time or another and they don't want it to die."
Scott Arnold said his stepfather and friends used to race at the dragway. He agreed that many of today's racers grew up at the track watching their fathers, uncles or even grandfathers doing the same thing they want to do — press that gas pedal to the floor and see how fast their souped-up cars can go.
"That's what it is really, a memory track," he said.
It surely is for Bruce Bassage, 64, of Palmyra, who came out that Sunday morning to race his 1970 Plymouth Duster, which he's owned for 23 years.
Bassage was 17 when he first drove a Duster at Spencer Speedway in Williamson. He also raced at South Butler "a long time ago" and enjoys the people who come out to race and watch. Plus, it's a way to stay busy. His car is dedicated to his late wife, Lana, who served as his "pit crew" before passing away just over a year ago.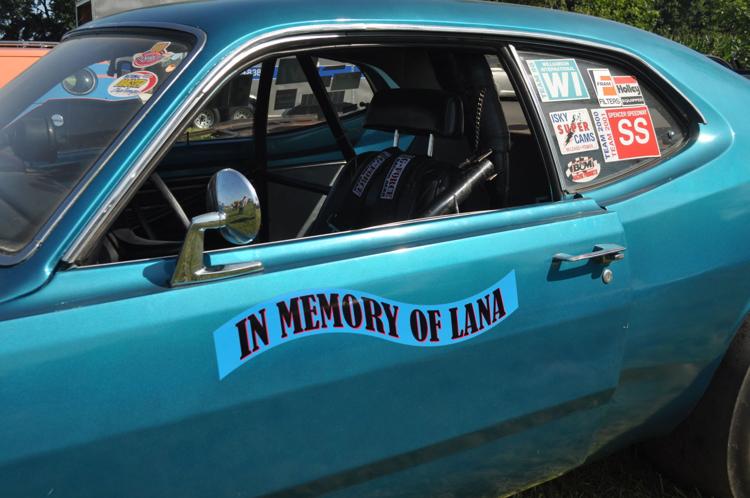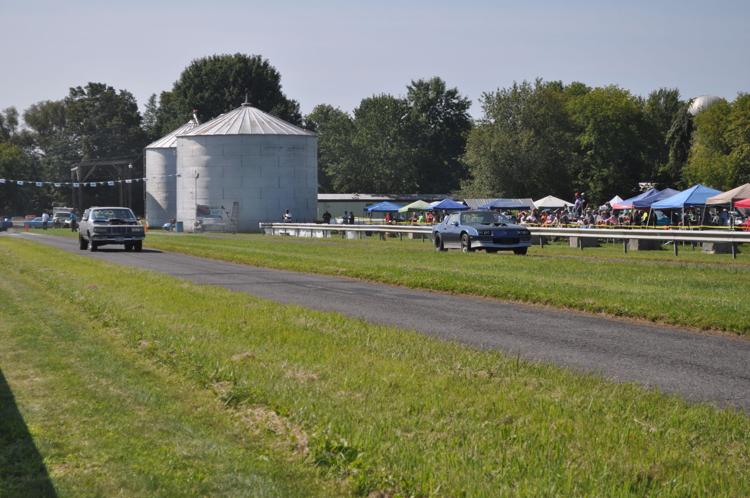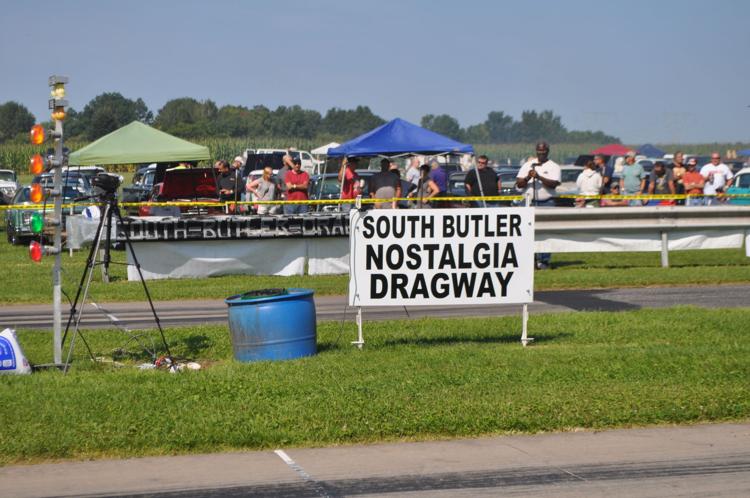 "I race for fun," Bassage said. "Win, lose or draw you got down the track. I race until I run out of gas. In fact, I should check it. I've already made two runs."
Dan Gross of Savannah grew up in Rose and visited the track as a teenager. Now he has a teenage son of his own, who convinced him to buy a 1973 228 Camaro about four months ago; before this car, Gross was strictly a Mustang man.
Gross had taken three runs down the track and was contemplating a fourth before he had to head off to work.
"It's fun," Gross said. "You look at the smiles on the people's faces — even if you lose, it's just a rush. … It's a great time."
Also taking a break in the pit area were Nick and Greg Kellogg of Dansville in Livingston County. They had awoken at 5 a.m. that day to make the two-hour trip to the dragway with their 1978 Chevy Malibu station wagon. It was at the Rochester machine shop where he works that Greg Kellogg saw a flier promoting the South Butler track.
The Kelloggs weren't disappointed.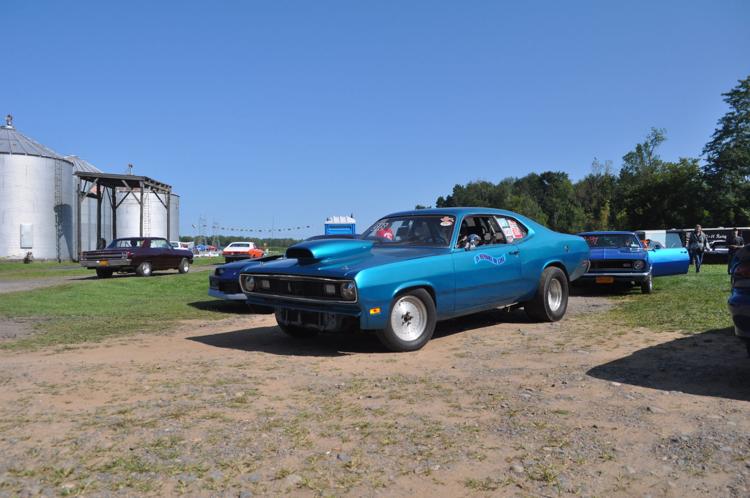 Despite dancing around a bit, their Malibu reached 104 mph and they were enjoying the track's "grass roots" atmosphere compared to where they usually race, Empire Dragway in Leicester.
"We love it," Greg Kellogg said. "We're just here to have a good time. That's what it's all about, to have fun."
The voice of the races
Randy Salerno of Newark spent his day not behind the wheel, but on a raised platform under a tent calling the races. Salerno, a mechanic at Friendly Ford in Geneva, may be better known for his side gig as Racin' Randy on 95.1 FM radio. He was at Watkins Glen racetrack last summer when his father-in-law telephoned and told him to call Bill Arnold right that minute. Salerno complied and soon had committed to announcing all of the dragway's races.
Salerno happily gives up an occasional Sunday.
"This to me is all about fun," he said. "As long as they want me I'll do it."
Like many others who frequent the track, Salerno recalls being taken there as a youngster — in 1963 to be exact, at the age of 3 when young boys are particularly impressionable when it comes to cars.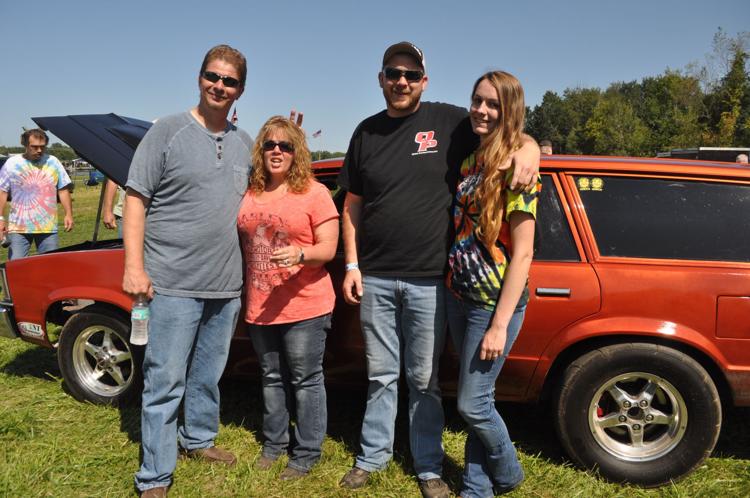 "My father-in-law and father raced here and the history of this place goes back a long time," he said.
Salerno described himself as a racing nut and has more than 3,000 racing die cast collectibles to prove it. And he is a stickler for detail, as well.
The track record had been broken that morning by John Fry of Canandiagua, who hit 113.9 mph in his 1973 blue Camaro. Salerno excitedly shared the news with the crowd, noting Fry had been close to eclipsing the 113 mph record several times.
But Salerno went the extra mile on Monday, calling this reporter who had left the track before the record was later broken twice more.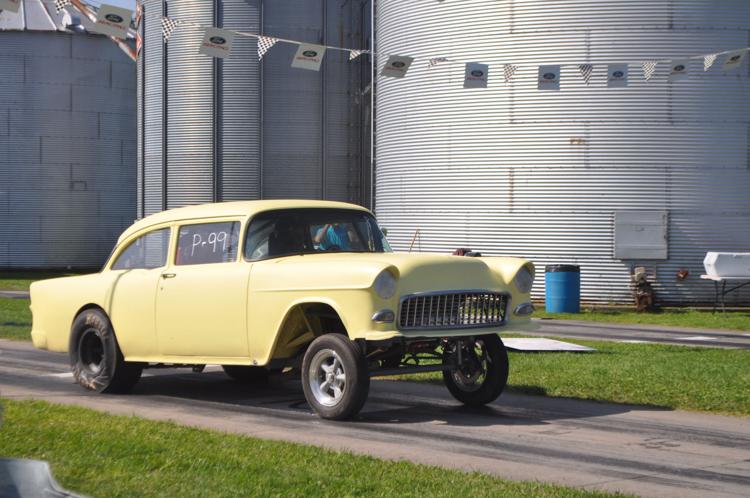 Salerno said Fry raced against Ron David of T&H Racing, who set a new record of 114.7 mph with a Chevy Monza. Even though the racers say having fun is what brings them to the dragway, there's no question that competitive juices flow through their veins, too.
The previous track record, set last summer by Brandon DiSanto of Clyde with a 1975 Dodge D-100 pickup, was 113 mph. And DiSanto and his father, Steve, just happened to be at the track that sunny Sunday morning to watch the racing action.
When Fry broke the record, DiSanto said his father turned to him with a question.
"He looked at me and asked if I wanted to get the truck and I said 'why not?' DiSanto said.
So the duo returned home to Clyde, readied the pickup and returned to the track in early afternoon. DiSanto wasn't too hopeful about breaking the record, telling his father he'd see how the truck performed the first time, then they could make adjustments.
"I told him that was everything I had back then with 113 mph, but I'll give it a shot," DiSanto said.
He took a single pass down the track, with no competition, and when he returned to the pit area saw several people giving him a thumbs-up gesture. DiSanto said he thought he must have neared the 114.7 record.
"Then my dad's nephew came over and he's like 'Holy cow, 118.4 mph,' DiSanto said. "I was, like, 'No way.' Even when my dad said Randy announced it he couldn't believe it."
DiSanto said he and his father raced a lot last year at the track and enjoy it because of the nostalgic feel — plus it's just 10 minutes from their home.
But come Sept. 24, they'll be seeking more than a good time. DiSanto said David, whose record he broke, wants to race him that day and DiSanto intends to hold onto his track bragging rights.
"Oh yeah, that's the plan," he said.