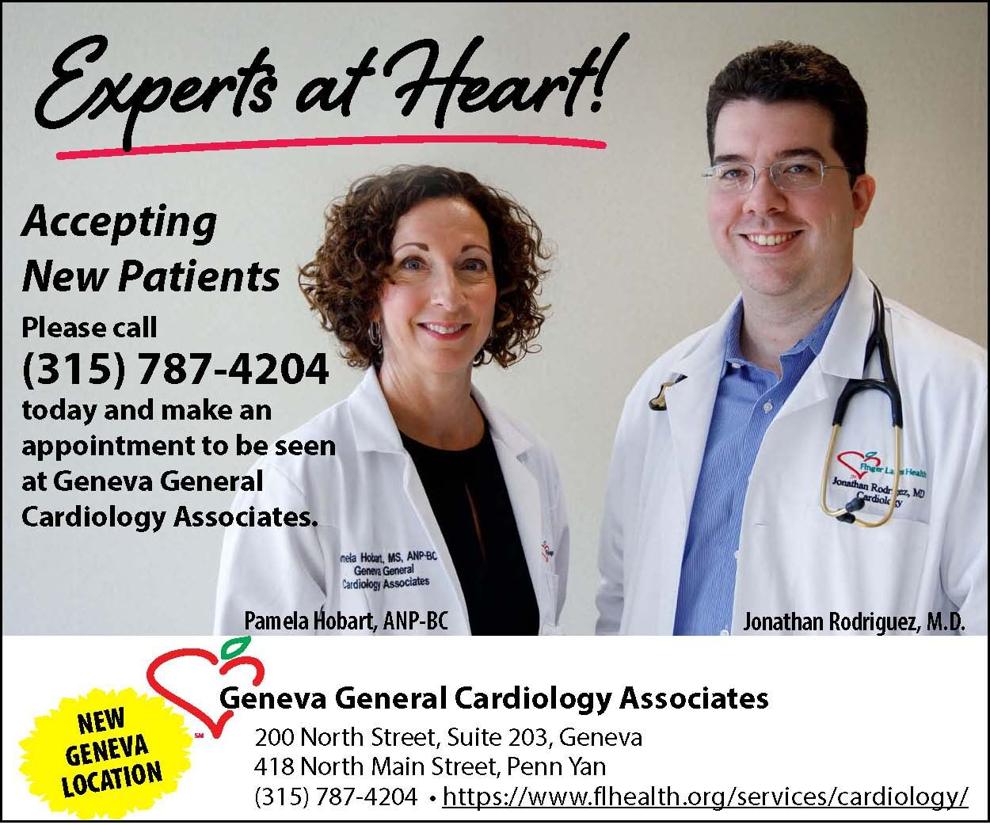 Don't miss out on life's heartfelt moments….
You have so much to look forward to in life, like weddings, birthdays, graduations and all of the special moments that make your heart full of joy. Your family is counting on you to be part of these special celebrations. You need to take care of yourself and your heart--so you do not miss a beat.
According to the CDC, heart disease is the leading cause of death for men and women in the United States. One person dies every 36 seconds in the United States from cardiovascular disease.
Geneva General Cardiology Associates, with offices in Geneva and Penn Yan, is dedicated to preventing, detecting, and treating cardiovascular disease early and encouraging positive lifestyle choices that promote heart health. Board-certified cardiologist, Jonathan Rodriguez, M.D., and Pamela Hobart, ANP-BC provide patients with individualized assessment, diagnosis, intervention, and treatment.

It is important to establish a relationship with your cardiologist. When asked, Dr. Rodriguez said, "We can help treat high blood pressure and high cholesterol with medications; open blocked arteries and replace severely malfunctioning heart valves through catheters; place pacemakers in patients whose natural conduction is diseased, electrically silence arrhythmias; and even keep blood circulating in patients with failed hearts using mechanical pumps implanted in the heart.  All this requires close collaboration with other medical and surgical specialties, which is an important part of patient care. The most amazing part is that despite all these available technologies, the field of cardiology continues to advance and new ways of treating various forms of heart disease are researched routinely." You can trust that Geneva General Cardiology Associates is here when you need them and they will help you be there for your family.
Jonathan Rodriguez, M.D., and Pamela Hobart, ANP-BC treat patients with a wide range of cardiac diseases and conditions including:
Arrhythmias, including Atrial Fibrillation
Cardiomyopathies
Chest Pain
Coronary Artery Disease
Heart Failure
Pericardial Diseases
Peripheral Vascular and Aortic Disease
Syncope
Valvular Heart Disease
The practice is now accepting new patients and provides care to all who need it, accepting most insurances and payment options and providing financial aid, if necessary.  Telemedicine appointments are available as an alternative to coming into the office when appropriate for many conditions, but not all. Call (315) 787-4204 to schedule an appointment with Jonathan Rodriguez, M.D., or Pamela Hobart, ANP-BC.