GENEVA — Last year, when Geneva and Wayne Central squared off in the Finger Lakes East, the Panthers claimed an early 23-0 lead — only to see the Eagles rattle off 41 straight points and eventually claim a 48-31 victory.
"Wayne deserved to win that game last year," Geneva coach Mike Pane said Friday night. "When you have a 23-point lead you've got to finish, and we didn't finish.
"We made a point of saying, 'If we get ahead (Friday night), we need to finish the game.' "
It took some time at Loman Stadium, but Geneva finished the way it would have liked to in 2018.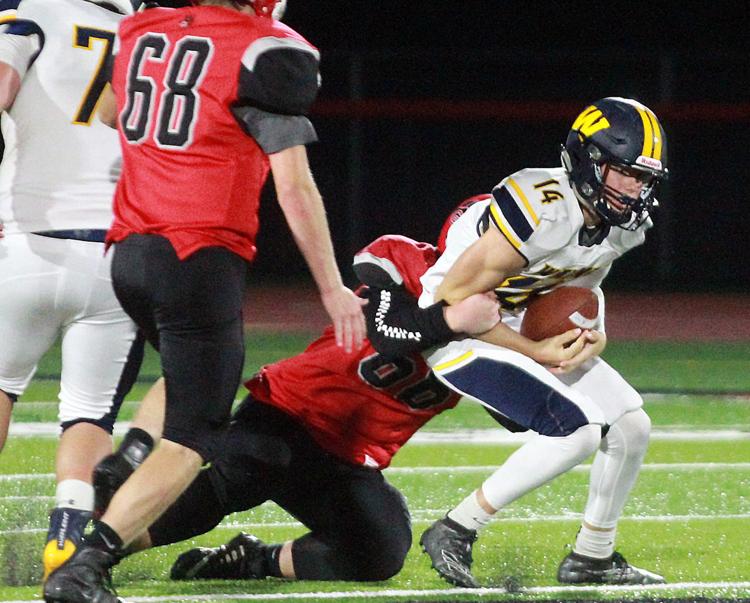 After a scoreless first half, Geneva ran the ball effectively to capture a 20-12 victory.
"I somewhat feel fortunate we won," Pane added. "The kids played hard, but we didn't execute ... we've got to clean some stuff up or it'll come back to haunt us. What we are doing is playing hard for four quarters, and we're running the ball when we need to late. The last two games we've been able to run clock and hang onto the ball; that has been a positive for sure."
Both teams had ample opportunities to score in the first half, but turnovers eliminated those chances: Each team coughed it up twice.
The second half proved to be quite entertaining.
The Eagles (1-2) got on the board first when sophomore quarterback Mason Blankenberg connected with wideout Richard Cassano on a 6-yard touchdown. Geneva (2-1) answered a little over a minute later when junior running back Nasir Harrison found a hole in the defense and scampered 33 yards to the end zone.
Harrison rushed for 163 yards on 26 carries, scoring all three Panthers touchdowns.
"The first half we really weren't that good," Harrison said. "We just woke up in the second half. I woke up in the second half too. We just kept running the ball hard. The offensive line made great holes, and I had a lot of cutbacks. Every play was kind of a cutback."
"Nassir is a go-to kid," Pane said about his lead tailback. "He's got great vision, and he's running with power too ... he's got that mix of power and vision, which is a really tough combination for teams. He got some really tough yards when we needed them. He's been a really great kid to work with."
Wayne made things interesting in the fourth quarter. After Harrison scored his final touchdown to put the Panthers up 20-6, senior kicker Lucas Koczent booted the ball away — only to see Andrew Hamel return it 85 yards for a TD.
The Eagles had one final possession in the late stages. It was fourth-and-15 on their own 15-yard line when Blankenberg was flushed out of the pocket and threw a costly interception to Dugan Doeblin.
Doeblin finished with five tackles. Senior middle linebacker Malik Gramling led the defense with 12 tackles.
"I was proud of the kids defensively," Pane said. "They played a great game on defense. They held them a bunch of times in the first half. It was a good team effort, but we've got to clean things up, that's for sure."